Latest Crypto Insights H1'22 as per KPMG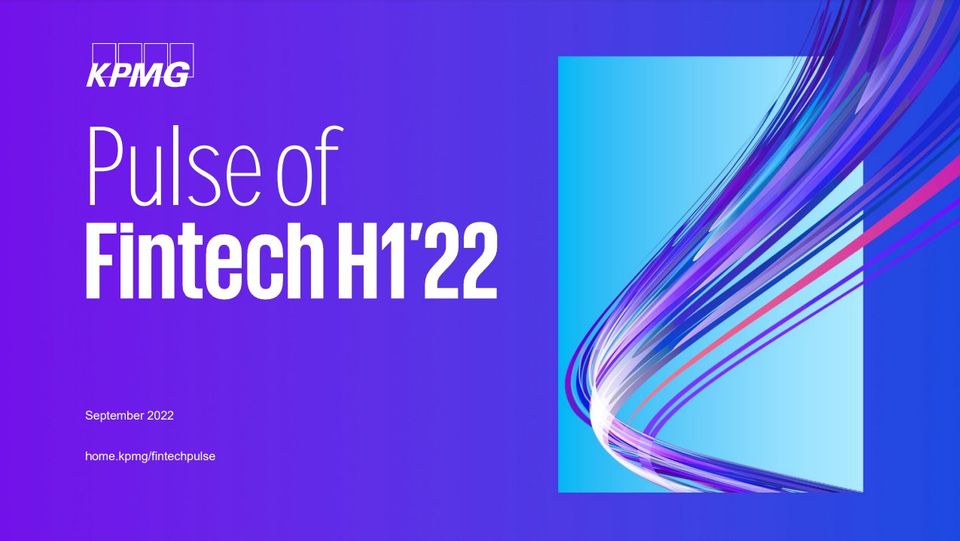 KPMG released its analysis of global fintech investments for H1'22. Blockchain/ Cryptocurrency is one of the Fintech verticals.
Even on the introduction page, they're advising on how to handle the bear market. Whether you're the CEO of a large institution or founder of emerging fintech, try to understand how market dynamics have shifted. Everyone needs to find ways to be more efficient to minimize cash burns.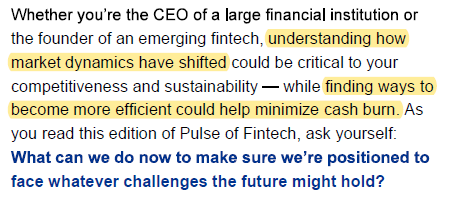 Despite the crypto space collapsing in the bear market after 2021, investments at mid-year remained above all years before 2021's bull market.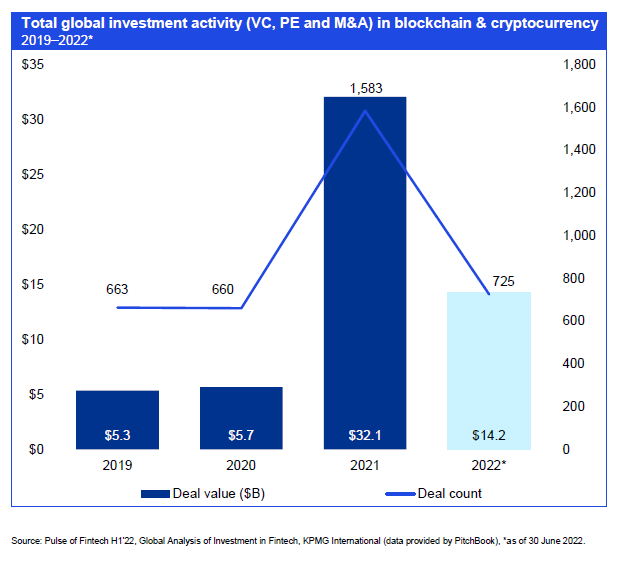 Here's every major takeaway from KPMG's crypto analysis:
#1 Changing Nature of investor
The bear market has reduced investments coming in from retail consumers. Instead, institutional investors are the ones buying into projects now.
During the bull market, there were a lot of projects using retail investors as the main source of funding by selling 10k collections. The change in market sentiment means that there will be fewer projects that collect funding through minting from retail consumers. Institutional investors will be investing through Venture Capital injections instead.

Bigger projects targeting VC funding will have an easier time getting capital. An example recently is Limitbreak's DigiDaigaku project.
#2 Growing Focus on currency sovereignty
In H1'22, the Central African Republic became the 2nd country to make Bitcoin a legal tender.
BRICS nations (Brazil, Russia, India, China, and South Africa) are currently working on developing a new global reserve currency. it seems that the US Dollar dominance is slowly being challenged.

#3 Focus on crypto regulation
China banned crypto (again)
India's Central bank wants to ban crypto too
European Union agrees on new regulations for crypto industries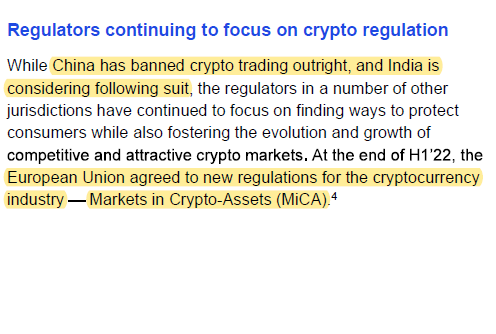 I'm expecting more countries will start coming up with new regulations about the crypto industry. We may see big projects migrating their base of operations to countries with more lax regulations.
---
What to watch for in H2'22
A few major changes are expected in H2'22:
I'm quite interested in updates that are going to happen in the CBDC/Stablecoins space. Gaining the benefits of blockchain tech while minimizing foreign exchange risks will interest many corporate entities.